Adorable Home players shared that preparing bento boxes to their partners will get much love quickly, even 10 fold higher than the amount of love from taking care of cats. However, many gamers still don't know the way to prepare bento boxes to earn the most love in this game. This article will be the key for you to open the high-value bento boxes.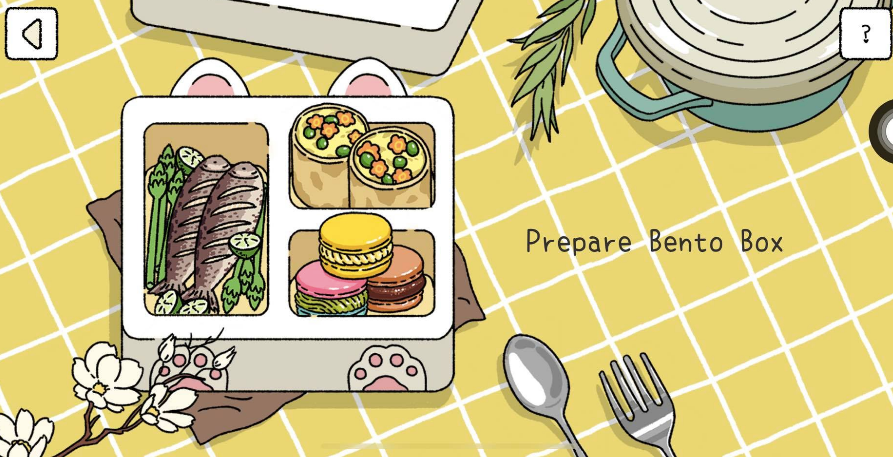 All of us know that the meals are very important in the family in real life. They help create a warm and happy atmosphere for all members. After a long working day, couples come back home to enjoy foods with their partners. The delicious meals prepared by wife will keep their husband at home instead of going out. Perhaps, the Adorable Home game developer understands the meaningless of family meals; so he also improves the role of bento box preparation in his game by granting much love for lovely and delicious bento boxes.
In the game, you have to go to the store to buy foods and arrange them in boxes, and then give them to your partner before they go to work. You will get love from your partner after they go come back home from work, 3- 5 fold higher than the love used to buy the foods and boxes. Each day, you should prepare one or two bento boxes. We will provide the following steps for the preparation of love-earned bento boxes:
5 steps to prepare bento boxes
Step 1: If the foods are not available, you push on any button in the box and select "Go to shop".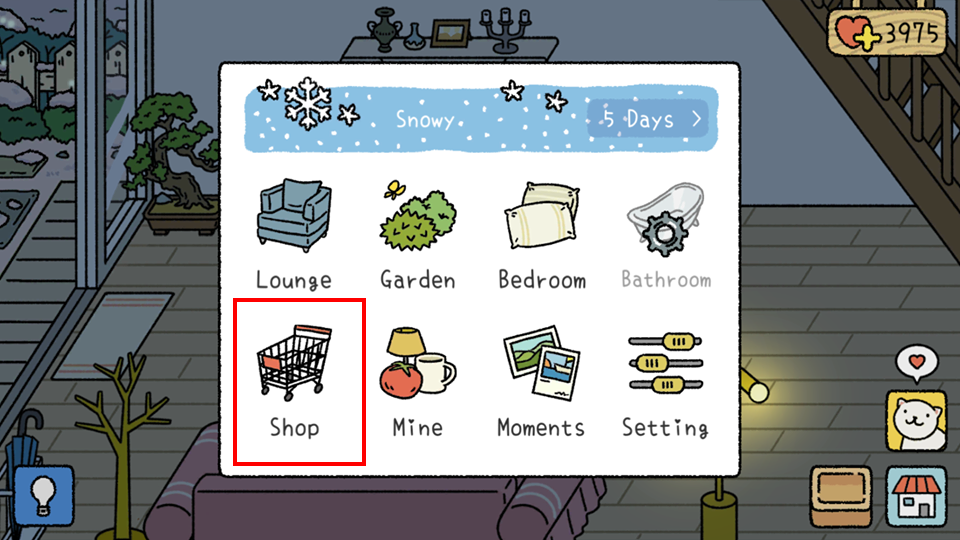 Step 2: Select the item: Foods and Boxes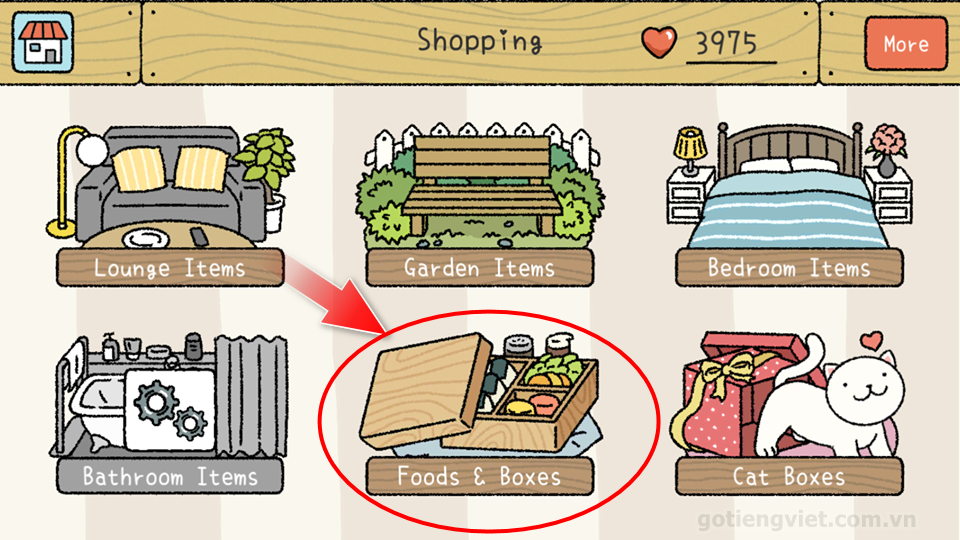 In this item, there are different items for you to select, including main course, side dish, dessert and Bento box.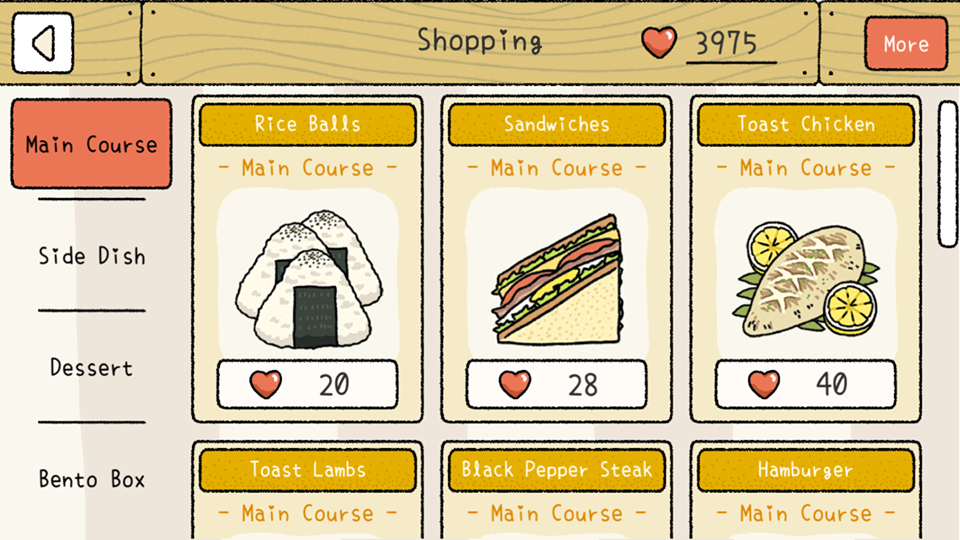 Note: You should select various menus with qualified and delicious to get much love.
Step 3: If you are lazy, you can click on low-price available food combos. You should not choose only meat or only vegetable for the meals. This way will lower the amount of love.
Step 4: After the preparation of bento boxes is finished, you push on the button Back in the left corner. The system will store automatically.
After 8-10 hours later, your partner will come back home, LOVE will appear on Bento symbol. You click on it to receive your hearts.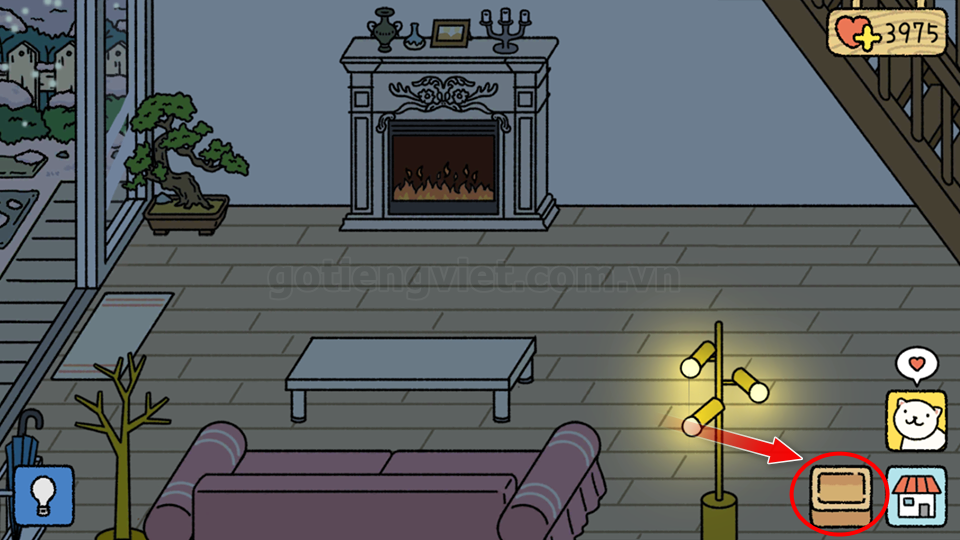 In fact, the preparation of Bento boxes is easy. However, it be required to be conducted daily; so you don't forget this task because it may cause the disappearance of your partner and you have to suffer the loneliness.
Sets of bento boxes that can earn a lot of hearts in Adorable Home
This article will introduce to you some sets of bento boxes to get a lot of hearts for you to consider for your selection:
+ Set pizza, tempura, napoleon strawberry cake with bento cat like box.
+ Set sushi, sashimi, wagashi, with galaxy bento box.
+ Set Grilled Chicken, Avocado Salad, Pudding, with Pink Bento Box.
+ Set Sushi, Sashimi and Wagashi with white bento box.
+ Set fried fish, tempura, wagashi with Cat-like box.
+ Set Hamburger, fried potato, macaron, with galaxy box.
Tips to increase love from bento boxes
The simplest way is selecting the color tone sur tone with the color of foods. The menu should focus on Asian foods or European foods. The food set should include main course, side dish, and dessert. The unqualified food sets will be not highly appreciated by your partner, lowering the amount of love you can get.
You should buy the kind of box in the shop instead of using available wooden box samples because it will be raise the amount of love.
You should change the menu daily. You can keep the main dish and change the rest.
After completing all steps of preparing bento boxes in Adorable Home. You will wait to receive the love from your partner. If you apply the above-mentioned steps correctly, you can get at least of 800 hearts. We hope that this article will be very useful for you and makes you feel that the game is more interesting.