Recently, millions of gamers have paid much attention to Adorable Home game which seems to make them happy in busy modern life. Many groups on Facebook are created for Adorable Home gamers. Among many different games, what are they interested in this game? Why does this game touch to the hearts of over 5 million people worldwide? How do new gamers play it?… All above-mentioned questions of gamers, especially new gamers will be answered in this article as follows:
What do you know about Adorable Home?
Adorable Home is the newest mobile game for the iOS and Android platforms, developed by HeperBeard – the largest mobile game developer and publisher in Mexico. This game helps you to relax after a long working day. You simply enjoy the love (Love or heart is the currency in this game) from sharing the life with your spouse (partner) and taking care of pets.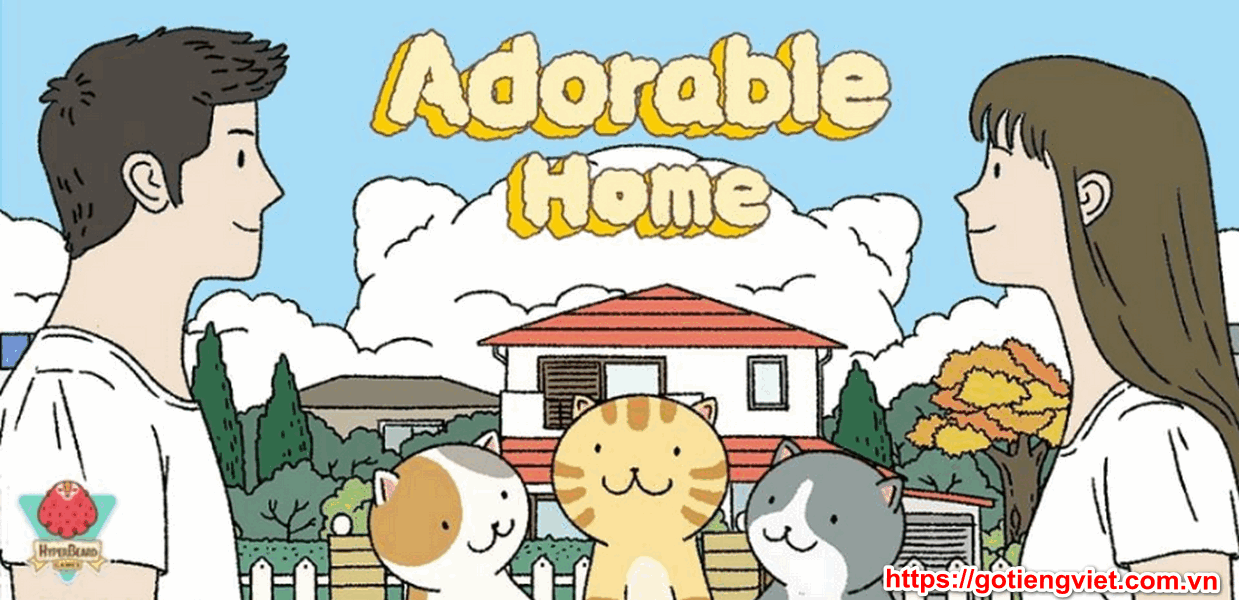 This life simulation game allows you and your partner to move to a new home in the suburbs with your furry companion, an adorable cat named Snow. Your couple has to decorate the house and takes care of cute cats by bathing, feeding, playing with them, and cut their nails. Such actions will bring you love (hearts) which are used to buy furniture, appliances, decorations… such as sofa, carpets, TV stands, bonsai… as well as to buy more cats (total 12 cats in the game).
Why does Adorable Home game become a "HOT" game?
Many people, especially youngers, like and play this game and the following are reasons:
Players are allowed to master their life with their creativeness in the game
Gamers are allowed to select their partner and decorate their houses according to their desire. In real life, it is not easy to master the life; therefore in Adorable Home, gamers feel excited and satisfied because this is a place for them to enjoy a simple and peaceful life.
In Adorable Home, you can live in your dream home. While other simulation games offer elaborate tools to build you dream house, this app lets you enjoy quite a simple aesthetic. We realize that you really don't need much to have a virtual home that you'd love to spend some virtual time in.
You are alone and tired? Adorable Home makes your life happier
In the real life, sometimes you are not respected even you do good things. But in this game, each good activity made by you will bring you love. When you take care of your partner and cats, you will get hearts; this makes you happy and helps you feel love in life.
In the game, you are allowed to choose a partner, whom you can spend time with, prep lunch for, and lovingly wait for until they come home from work. There's a lot of players who love this feature because, according to them, at least they're not single in the game.
Easy to play, no rank, no pressure
You are under high pressure in the real life with many concerns and worries which make you tired and exhausted, facing with mental problems. Even, many people suicide due to difficulties in the life. After a long working day, you feel a peace in Adorable Home via sharing life with your lover and taking care of cats. No rank and no pressure incurred by you in this game.
You can have as many pets as you want
If you're a pet lover, this game belongs to you and meets your desire for taking care of numerous pets. From taking care of them to receiving love back when you do so, it's definitely rewarding to the feeling. In addition, you can have any pet, even a bear.
Guides to play Adorable Home for New Gamers
Basic Steps before playing the game
Firstly, you have to download the game for your mobile phone or computer; then you select a character representing for yourself and a character as your partner. Both of you start your life in a new house together with a cat named Snow. This following are the next steps which you should follow to play the game:
Step 1: Select the language (English version in case of no your native language).
Step 2: Select a character representing for you and name at your decision. Then click on Confirm button.
Step 3: Select a character as your partner and name him/her. This character can be male, female at your decision; then click on Confirm button.
Step 4: This is the time for your couple to build a happy life with Snow in Adorable Home.
Your tasks in Adorable Home
Earn love (hearts)
The heart is the currency in this game. So, if you want to buy many things for your house and become a rich person, you have to earn hearts as much as possible. You can get love from taking care of cats, preparing meals for your partner, watching ad video, checking weather report, attracting animal visitors…
Take care of cats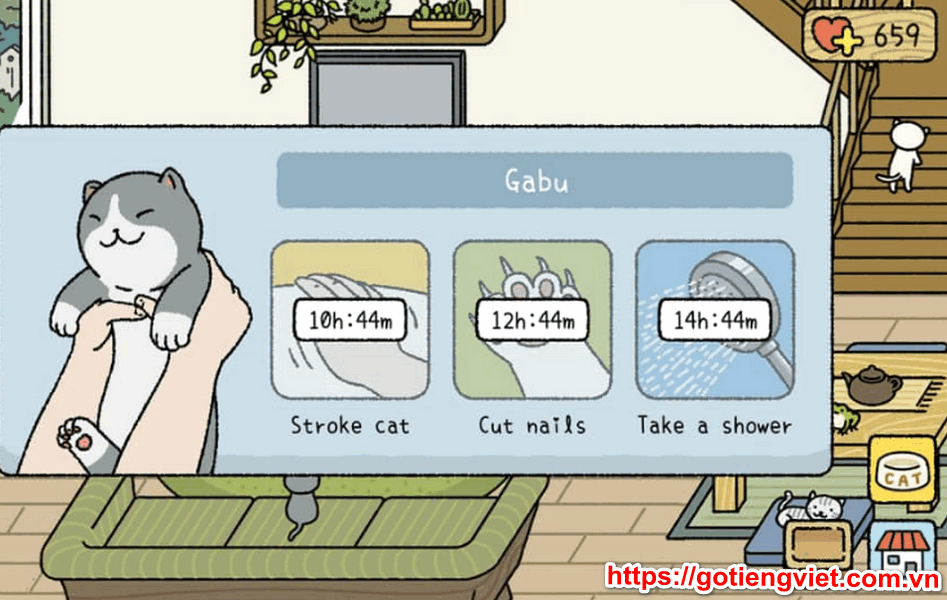 Important activities in taking care of cat include stroking them, cut their nails and taking a shower for them. In addition, you have to feed them with their favorite foods.
Click the symbol of house in Adorable Home game to buy decorations and furniture for your house. Hearts used to buy different furniture such as: Sofa, TV, TV stand…
Furniture and appliances bought by you will be stored in the item: Mine
The cute moments during the process of taking care of cats will be store in the item: Moments
It is noted that you have to get many cats to take care of them in order to earn hearts for buying your favorite things.
Adorable Home is an interesting game. If you are interested in it, you can download it by enter into your CH play for Android platform or Appstore for iOS platform.